By Jonathan Papp on 1/9/19 1:00 PM
At various locations on the circulation.com website, visitors have the option to engage with our team via chat. This chat functionality was originally designed for lead generation purposes — the idea being that marketing is becoming more conversational and less about waiting for prospects to fill out tedious multi-field lead forms. But our chat has evolved over time to fit the needs of the real people who travel to our site every day. In addition to converting prospects, we have chat flows to accommodate patients/riders, new and existing transportation providers, and users of the platform looking for support.
So, how are we fielding all of these inquiries through our Chatbot? The answer is simple — we've automated it. Yes, in many cases, we'll deploy an army of Chatbots to help field those inquiries and we've even built in logic to either surface the right answer or transfer to a real human if necessary. The below is a real life example of a bot conversation with a website visitor.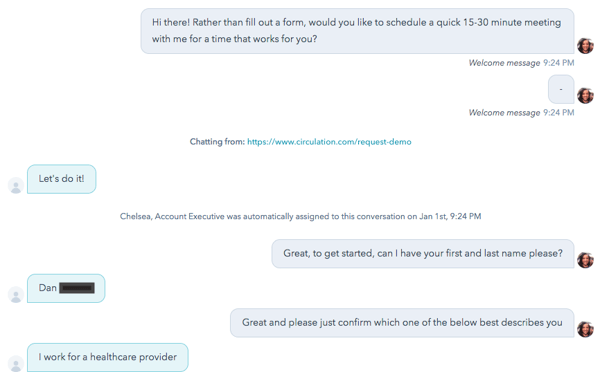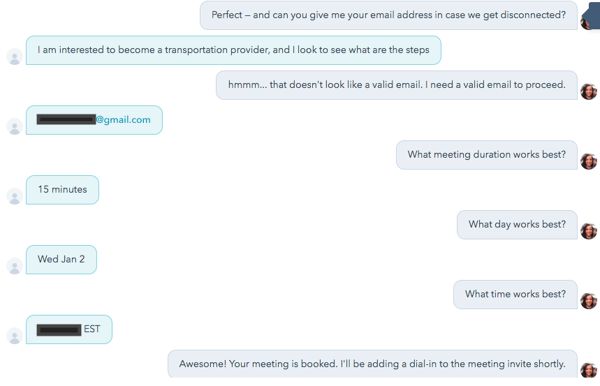 Throughout this entire conversation, our bot is filling in for Chelsea. The bot is working to schedule a meeting with a prospect and to do that, it is pulling availability from Chelsea's calendar. After the meeting is scheduled, the bot adds it to Chelsea's calendar and gives the prospect instructions for dialing in.
Before you feel duped, it is worth noting that the chatbot made this particular conversation far more efficient and it was a win-win for both Chelsea and the prospect. This all begs the question, how can chatbots be used to make healthcare more efficient and be used to improve outcomes? Here are 3 modern-day use cases for chatbots in the healthcare industry.
1. Chatbots for care management
Chatbots can be an asset to care managers, helping deliver crucial information to patients about conditions, illnesses or upcoming procedures. For instance, Conversa Health has a chatbot that helps patients prepare for a colonoscopy. Through either email or text, the chatbot will automatically deliver educational materials on the upcoming colonoscopy or if needed, address any questions or concerns that patients may have. The goal of the Conversa chatbot is to reduce the number of colonoscopies that need to be canceled last minute, which costs time and money for hospitals. Chatbot are also playing a role in oncology care. For instance, The Cancer Chatbot is helpful to patients undergoing chemotherapy by sharing with them tips and tricks. The bot even works directly with friends and family, giving them advice on what to say and how to help loved ones who are battling cancer. Even health plans are using Chatbots, like Premera Blue Cross whose bot Premera Scout helps explain benefits to plan members.
2. Point-of-care chatbots for Clinicians
Several new chatbots are coming to market to support clinicians at the point-of-care. One example is SafeDrugBot, which was created out of the need for doctors to be able to easily retrieve information about drugs. SafeDrugBot offers assistant-like support by providing information to doctors about the active ingredients within medications, as well as recommended alternatives to drugs. Going even further, other chatbots are replacing large databases by making it easier to look up medicine interactions and proper dosage. Chatbots can also act as gatekeepers for overworked and over-scheduled physicians. A company called Babylon Health has already developed a chatbot to give patients advice on ways to self-treat by mining information from medical databases and putting together correlations between symptoms and conditions. As a result, they say, many patients stopped asking for an appointment with a real physician, realizing that they didn't need one in the first place.
3. Chatbots as medical assistants
Many patients are now turning to Chatbots to help them manage their own care more effectively. Florence is a Chatbot nurse that reminds patients to take their medications, monitors their health and helps patients book appointments. Similarly, symptom checkers like Buoy Health and Your.MD ask individuals about their symptoms and use medical databases to make healthcare recommendations. In May of last year, Buoy announced a partnership with CVS where if medically appropriate, Buoy's chatbot would connect patients to a nearby Minute Clinic location. Another chatbot called GYANTis works by understanding the symptoms of a user and sending data as input to doctors who can provide diagnoses or prescribe medicines in a real-time environment.
Know of any other creative use cases for chatbots in the healthcare field? Leave us a comment below.
Jon is Circulation's Director of Marketing.
(chat functionality pictured above is provided by Hubspot.com)