By Jonathan Papp on 4/25/18 2:44 PM
Last Monday, the Centers for Medicare & Medicaid Services (CMS) released their finalized policies for Medicare Health Plans in 2019. The letter includes open-ended language that expands the definition of "primary health-related" benefits to include supplementary health benefits — as long as those benefits "act to ameliorate the functional/psychological impact of injuries or health conditions, or reduce avoidable emergency and healthcare utilization."
Bravo to the CMS for expanding coverage guidance in a way that materially addresses the social determinants of health — such as improving access to better food options and of course, providing transportation to and from doctors' offices.
There are currently 20 million Medicare Advantage beneficiaries who stand to benefit from this expansion — making it easier for those members to lead healthier lives.
For insurers offering MA plans, this means it's time to design a transportation benefit that not only enables safe, cost-effective and reliable rides but also provides transportation that meets ALL rider needs — including the estimated 20% of beneficiaries who require wheelchair-accessible vehicles.
Here at Circulation, we've already been working with MA plans to help coordinate member rides and manage their transportation initiatives. These health plans are doing it by utilizing our HIPAA compliant, on-demand transportation exchange to order Lyft rides, wheelchair vans, and stretcher vehicles, which all bring patients to and from their medical appointments. And so far, we've seen some impressive results including a 91% avg on-time rate, up to 8% fewer no-shows and up to 70% in cost savings (compared to traditional taxi vouchers).
With that, here are five Circulation features that MA plans can leverage in order to launch a successful transportation benefit.
1) On-demand transportation without the need for a smartphone:
We realize not all your Medicare Advantage member have smartphones. That's why we've designed our workflow so rides can be ordered without the need for a smartphone or even a cell phone. How do members know when their ride has arrived to bring them to their appointment? You can configure the pickup to have patients receive automated reminder calls via landline, with all notification available in English or Spanish.
2) A simple ride ordering workflow that coordinates on-demand ride sharing:
A simple, intuitive trip booking process that takes about 45 seconds per encounter and handles the interaction with ride sharing providers like Lyft. Circulation has procedures for grievance resolution, real-time ride dispatch and fraud, waste, and oversight. Plus, you can book rides for all future appointments or create en-route rides, such as those that stop at the pharmacy on the way home from an appointment.
3) Rule-based prior authorization & health plan specific workflows:
Circulation captures authorization details and automatically "gate keeps" at the moment of ride booking. At the individual level, the platform tracks against total allowable spend, total allowable rides, authorized pick-up/drop-off locations and customized mandatory fields (i.e. member #). In other words, health plans can allocate per member annual coverage dollar amounts or per member annual number of maximum rides.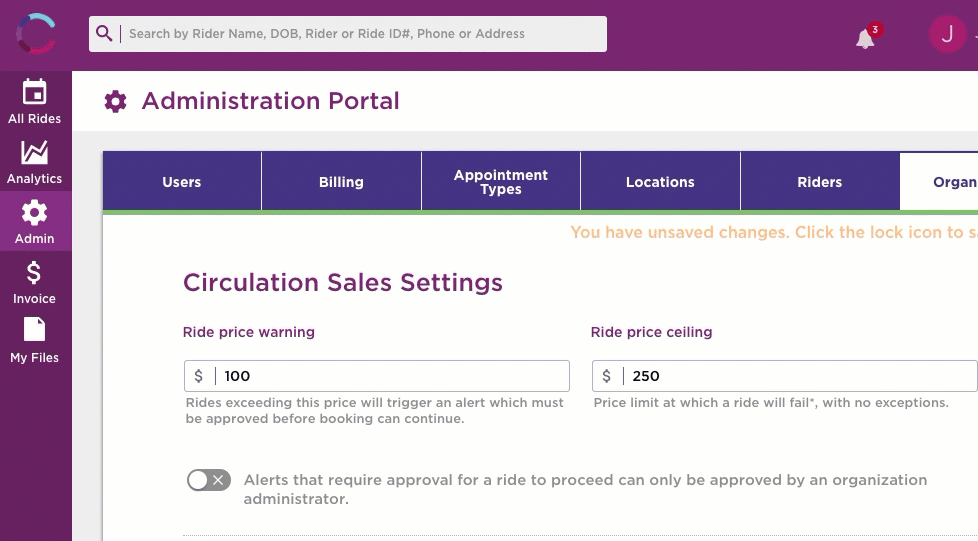 4) HIPAA compliance with additional personal information safeguards:
In addition to being HIPAA compliant, we take extra steps to ensure patient safety and protect their information. That includes hashing rider phone numbers and only sharing their first names with drivers.
5) Powerful cost controls built directly into the platform:
Circulation has built-in safeguards to prevent against runaway spend and rider abuse. Health plans can set their own price warnings, price ceilings, max distances and other criteria to control the benefit. If a patient needs a ride and the projected spend is higher than the allotted per ride price warning, it can trigger an alert for a higher-level admin to approve or reject. This system of tracking and approvals all happens without ever having to log out of Circulation's platform.
Have some thoughts on what the recent CMS changes to Medicare Advantage plans might mean for the future of NEMT? Drop us a note in the comments section below!
Interested in learning more about Circulation's features? Email our account specialists.