By Bonnie Marko on 12/20/18 10:15 AM
When people talk NEMT, much of their focus seems to be on eligibility - why you should provide it, when members can take advantage of it, and how this can all be effectively managed through Circulation. (Ok, maybe only some of us talk about that last part.) But while the providers creating that demand are important, here at Circulation, we are equally focused on the supply side of the NEMT chain. Today, we highlight the transportation providers who make these trips possible.
As we grow our transportation network, we engage very closely with each provider that is onboarded. As a Circulation network partner, we are a phone call away from anything you need, be it system support or standing orders. We've even had the opportunity to meet a few of you in person. Coming onsite to watch your operations has helped immensely in understanding your processes and any challenges they pose. More than that, it's helped us come to know you as real people - small business owners, often times family-run, with dedicated and caring staff. As the face of the travel experience, you recognize you must provide a service that meets the needs of both the payer and the passenger.
That's a lot riding on every trip.
With your help, we've developed a Network management platform that aids you in providing a seamless experience for all involved.
Spend a day with any dispatcher and you'll see how hectic their day is, keeping the lines of communication flowing between clients, drivers, and passengers as they coordinate all the trips between them. For this group, we've built out real-time ride tracking and automated notifications to both your organization and the client, so you can let the system do the communicating for you.
When it comes to rides, we recognize the most important thing is volume. Being able to accept as many rides as possible and from as many sources as possible just makes good business sense. For this reason, we integrate with dispatch services such as DispatchBot and WellRyde, so you can easily manage and schedule Circulation rides among all your other streams of business. On top of that, our auto-accept settings ensure that you maximize your Circulation ride volume, letting the system work for you even when you're not logged in.

And let's not forget the drivers. We've heard from you how important it is to provide quality experiences for the patients you transport. We understand your focus is on ensuring their comfort and safety while keeping to a tight pickup and drop-off schedule. We also know you are more than just a service provider to many of them. It's not uncommon for passengers to request specific drivers, or for a provider to go the extra mile (that is, outside of their normal service area and hours) for some passengers. We value that dedication. We want your focus to remain on maintaining that relationship, not working on your phone. With our driver app (shown below), you have an intuitive interface that requires minimal effort to keep you, your dispatcher, and the passenger informed on each ride, from the point of dispatch to patient/member drop-off.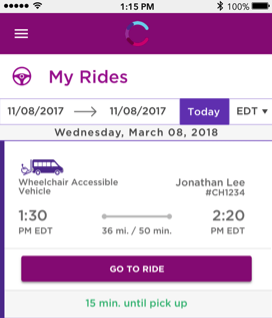 We look forward to continue working with our transportation provider network to build out a platform that supports your needs as we grow our business together.
Interested in becoming a part of that network? Fill out an online application or contact network@circulation.com for more information.
Bonnie is Circulation's VP of Product